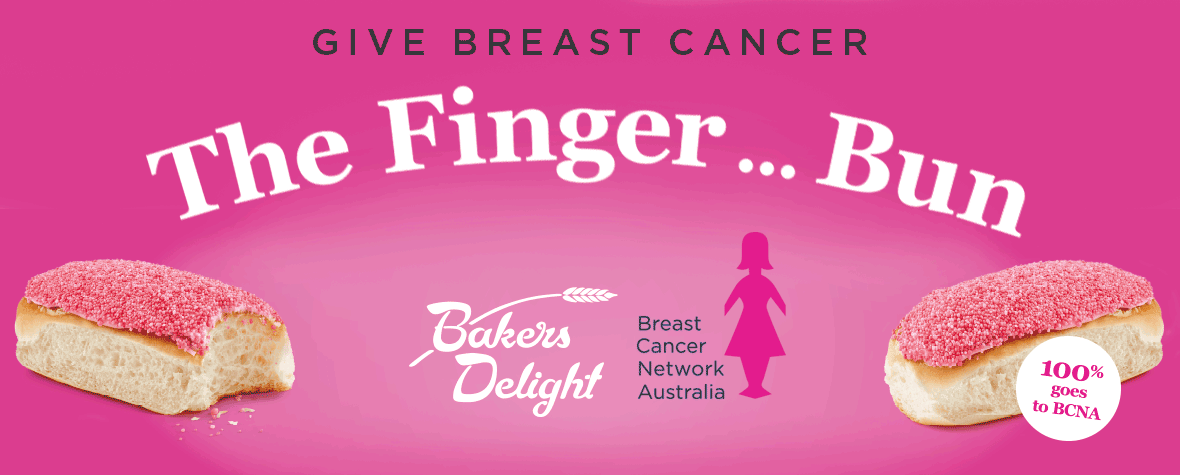 My local shopping centre is awash with pink. The Bakers Delight store is festooned with pink bunting, pink lady silhouettes, pink apron clad staff and a counter groaning with pink iced finger buns. A mob of children clamours excitedly for a pink treat whilst mums happily indulge them, knowing that funds from their purchase are helping women with breast cancer.
The Pink Bun fundraiser is a partnership between Bakers Delight and Breast Cancer Network Australia that is now in its 15th year. Over 5 million pink buns have been baked, with Bakers Delight providing more than $15,000,000 and countless pro-bono services to BCNA during this partnership. See https://www.bcna.org.au/news-events/pink-bun-campaign/
This partnership has been transformational for BCNA and Bakers Delight. As charities increasingly look to corporate partnerships for new sources of income and support, let's look at what made this partnership so successful.
There was a compelling story and a vision for the future
The Bakers Delight CEOs, Roger and Leslie Gillespie, heard BCNA founder Lyn Swinburne speak at a function about her vision for helping women newly diagnosed with breast cancer. Lyn was able to tell a compelling story of her own journey with breast cancer and inspired the Gillespies to offer help. We often speak with charities that consider themselves too small for corporate partnerships. However, it's often the ones with the clearest vision or biggest dreams that are the most attractive to a partner. You could be the biggest charity in the country, but if you don't know where you're going, how can you inspire a partner to come on the journey with you?
It started at the top
The CEOs of the company made the decision to offer BCNA support. Too often, charities try to open up a corporate partnership discussion at too low a level in the organisational hierarchy. Most corporates have multiple layers of decision making, meaning that charities can take up to 18 months to get to a decision or agreement. It is much more effective to use the connections of your leadership and board to get to the highest level of authority you can reach. This circumvents middle management layers and gets right to the decision makers.
The relationship was nurtured over time
Bakers Delight started by offering BCNA some space in their office. That gave the two organisations a great opportunity to get to know each other, which led to offers of pro bono services and volunteering. A partnership can often start small or niche, but good, consistent relationship management can help it to grow. Viewing the partnership as a long term relationship rather than a transaction is the key to success.
There were obvious synergies between the organisations
The start point may have been a compelling story and vision, but it's the synergies that open up the real possibilities. Bakers Delight's customer base is predominantly female; they are the ones making purchasing decisions for themselves and their families. Breast cancer is a cause that is very personal for women; many have their own lived experience of it, whilst others have lost loved ones or supported friends with their cancer journey. By aligning an organisation that relies on female consumers with a cause that is deeply personal to women, the synergies create the opportunity for an emotional connection to a commercial brand. As Bakers Delight is a franchise, it also provided the opportunity to build a common point of connection across the 70 franchises, consistent with their family and community focus.
Multiple points of engagement make it a sticky relationship (not just with the buns!)
Bakers Delight and BCNA still share office space. But over the course of the partnership they have shared a lot more- staff volunteering and fundraising, pro bono services, joint marketing and even board representation.  As Roger Gillespie, CEO of Bakers Delight said "it's part of our culture, it's part of who we are". When a partnership has multiple points of engagement, it's very hard for others to replicate. Corporates can often 'refresh' partnerships when leadership changes or marketing plans get updated- but it's much less likely when you have staff, franchise owners and customers so heavily committed to the partnership in multiple ways.
BCNA and Bakers Delight have shown that a corporate- community partnership can be transformational. BCNA has sent out over 100,000 My Journey kits for women with breast cancer and the partnership has funded many essential services. So the next time you need something for that 3pm slump, make it a Pink Bun and change a life.
If you'd like to know how to start your own corporate partnership journey please contact us at: info@stellarpartnerships.com